Season Ticket Sharing
Before you share your season ticket, make sure you have read through the following:
You are signed in as the season ticket holder. Click here to sign in.
The account has paid the £20 to upgrade to enable ticket sharing.
The person you want to share with is a already a current 21/22 MyAlbion+ member.
The MyAlbion+ member is part of your Friends and Family group online (Do not create a new account for them.)
The MyAlbion+ member is the same age band as the season ticket holder*.
*Adults may share with an any age group. 65+/U21 may share with U10, U18, U21s or over 65. U18s may share with U18 or U10. U10s may share with U10.
The existing Ticket Exchange scheme will still be in operation and come into effect when a game has sold out. Ticket Sharing can be used at any time for a home league game.
How do I share my season ticket tickets?
Video Guide:
Step-by-Step Guide:
1. Click your name in the top right corner, which will take you to your eCRM record.
2. Then click "Tickets" to be taken to the Ticket section.
3. Tick the box next to the ticket you want share, and click "Share Ticket":



4. A window will pop-up where you can check the fixture and seat details are correct of the seat you want to share. When you have checked the details are correct, click "Share Ticket":



5. Select the MyAlbion+ member that you wish to share your season ticket with.
6. Click "Share Ticket":





7. Click "Proceed to Checkout":



7. This pages confirms that supporters will be sent a dual ticket which is a print at home, with a link embeded to download the ticket to their mobile device. Click "Next" to continue:



8. On the payment screen, no money will need to be paid, and you will need to confirm the terms and conditions for the ticket, and then click "Submit" to finalise sharing the ticket. Ticket Sharing is irreversible so only complete it if certain you have sent it to the correct person and that they can attend.:



9. The new ticket will now have been sent to your inbox, please find this email and forward on to the new attendee as soon as possible.: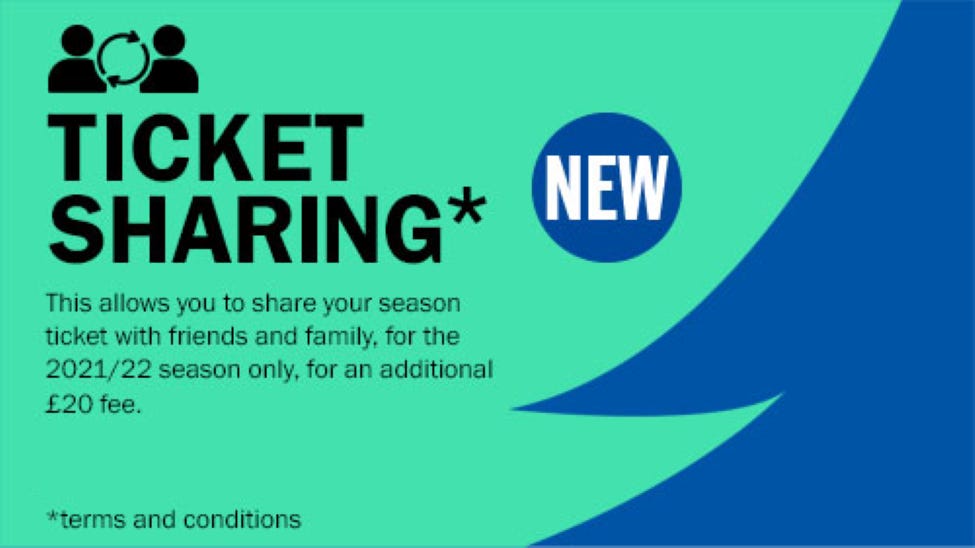 Share your season ticket with friends & family for only £20 for the 2021/22 season
Valid for men's first team home league matches, for full terms click here.

Information
Share Your Season Ticket With Friends & Family
For the 2021/22 season we are enabling season ticket holders to share their season ticket with a MyAlbion+ member* for a one-off upgrade fee of £20.

The system works online only and allows season-ticket holders to login and to forward their seat for a game to a current MyAlbion+ member*, this will deactivate the season ticket and send the season ticket holder a ticket with the correct name on to send to the MyAlbion+ member*.

*Note that MyAlbion+ Membership starts from £15 per season for juniors and £25 per season for adults. Click here to purchase a membership.
Season Ticket FAQs