Information
Share Your Season Ticket With Friends & Family
We recognise that in these uncertain times supporters need more flexibility than ever, therefore for the 2021/22 season we are enabling season ticket holders to share their season ticket with a MyAlbion+ member for a one-off upgrade fee of £20.
This will mean you can give your season ticket to a friend/family member for a match you may not be able to attend. (Season-ticket holders are reminded that photo ID must be shown every matchday, confirming the named attendee matches the name on the season ticket (under 12s are exempt)).

The system will work online and allow season-ticket holders to login and to forward their seat for a game to a current MyAlbion+ member, this will deactivate the season ticket and forward a new ticket to the registered member.

This system will only operate when full crowds return, it will not be available if a ballot system is in place. It should be noted that the ticket will be forwarded at the original age band. For example, if you have a senior season ticket this will be forwarded as a senior match ticket. Step Guide:
1. Ensure the person you want to share with is a MyAlbion+ member, that they are part of your Friends and Family group online and their email address is correct.
2. Upgrade your account to a sharing season ticket. Wait one hour and the permission will be added to your online account.
3. Adults may share with an any age group. 65+/U21 may share with U10, U18, U21s or over 65. U18s may share with U18 or U10. U10s may share with U10. All recipients must be a current, active MyAlbion+ member.
4. The ticket will be sent to the new owner automatically.
The existing Ticket Exchange scheme will still be in operation and come into effect when a game has sold out. Ticket Sharing can be used at any time for a home league game.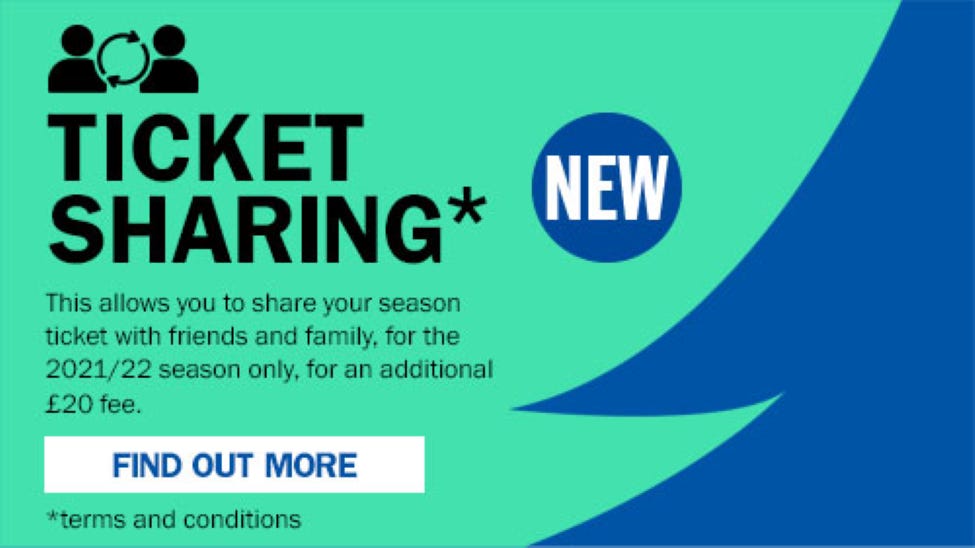 Share your season ticket with friends & family for only £20 for the 2021/22 season
Valid for men's first team home league matches, for full terms click here.

Key Information
Only applies to Season Ticket Holders who have bought Ticket Sharing
Can only be shared with MyAlbion+ members
For 2021/22 only
Season Ticket FAQs