Other Useful Guides:
All help pages | Online Ticketing | MyAlbion Digital Account | Linking Accounts | Return of Fans / Covid Regulations
Mobile Ticketing FAQs
Albion fans can now use Apple Wallet or Google Pay to store matchday tickets, making access to the Amex even more convenient.

When buying your tickets, select the 'Mobile Ticket' option on the basket page.

The club have produced a useful video guide for using mobile ticketing which we advise all supporters to watch.

Frequently Asked Questions
You will need a smart phone (Apple or Android) to use a mobile ticket. If you are purchasing a match ticket and do not have a smart phone please go to bhafc.club/nosmartphone and follow the instructions before making your purchase. Please note the deadline for season ticket holders to apply for an alternative form of entry for the 2021/22 season has now passed.

If you have a smart phone that does not have an NFC chip you will be able to download your ticket/season ticket to your Google/Apple Wallet and select the 'Show Code' option when entering via the turnstiles. You scan the barcode in the turnstile in the same way that you would with a paper or Print@Home ticket. The barcode will regenerate at regular intervals so screenshots of the barcode will not work.

If you have a smart phone with an NFC chip you will be able to store your ticket/season ticket to your Google or Apple Wallet and scan your phone on the top of the turnstile when entering.

To check if your phone has an NFC chip:

Apple: Any iPhone 6 or above has NFC (this includes the first generation iPhone SE) and will work with NFC ticketing. Please make sure your phone has a recent version of iOS for best use.

Android: Most recent higher end Android devices have NFC. Occasionally you will have a logo printed on the phone, or it will appear in your taskbar (when switched on):




Otherwise, the best way to find if your phone has NFC is to find the settings for it on your phone.

For most devices, Google recommends finding the NFC settings by going to Settings on your device and using the search function to find NFC, it can then be toggled on from here. This will work for most recent android devices.

For full information from Google, follow this link and go to "Step 2: Find out if your phone has NFC". If this isn't working, it maybe your device is setup differently. For some of the common steps to find the settings on your phone, please click the make of your phone below.

Samsung Huawei, Xiaomi, Lenovo Oppo, Realme Motorola LG Sony



Please note: Manufacturers of android phones make changes to software regularly, so these instructions may not apply. If you find the settings are somewhere else on your devices, please let us know at supporter.services@brightonandhovealbion.com

Your season ticket pass should update automatically to the next available fixture to you. This will only work if you have updates enabled in Google Pay / Apple Wallet, for information on this, see the Apple/Android sections below. After updates have been enabled, it will update but this can take a while. Even if the wrong game is displayed, as long as you haven't shared, upgraded or moved you season ticket for the fixture, the pass will still work.

If it's displaying a fixture beyond the next home game, please check if you have shared, upgraded or moved your season ticket seat for that game.

Apple: For iPhones, go to your Apple Wallet and onto the season pass. In the corner, there will be a circle with three dots, click this and on the next page enable "Automatic Updates":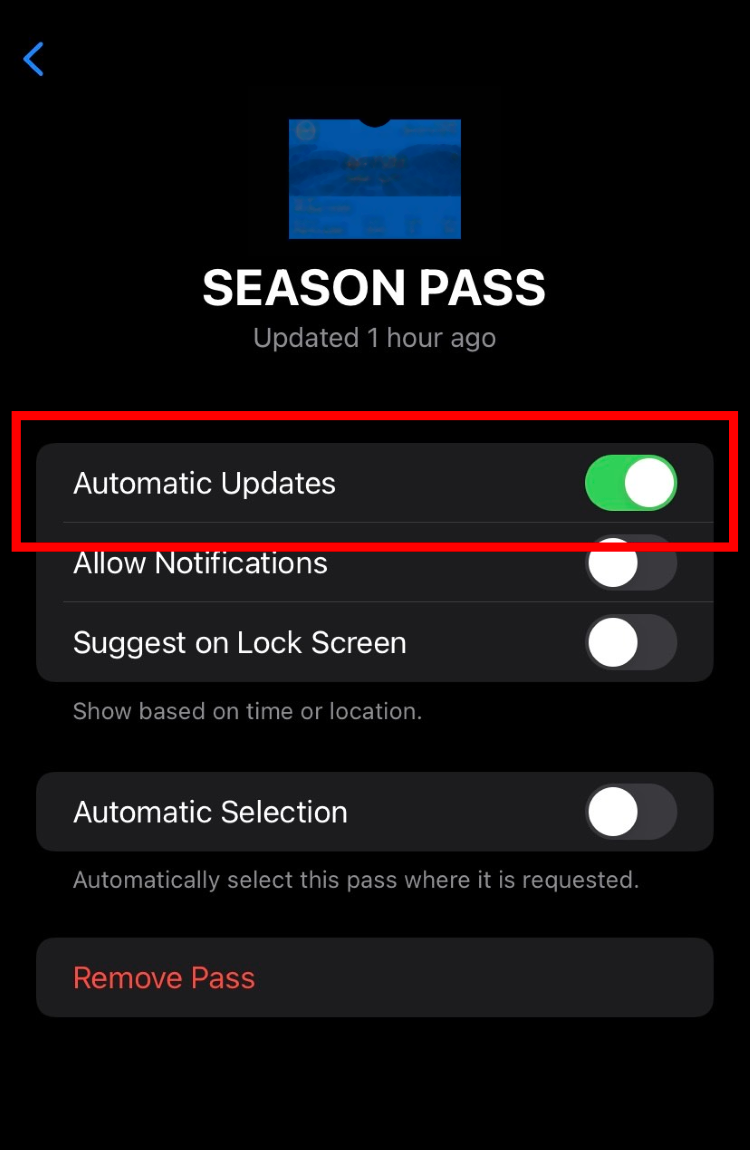 Android: In Google Pay, click the 3 lines in the corner, and go to Settings. Towards the bottom enable "Updates about your passes":

If you have an Android phone please ensure that you have the Google Pay app installed (opens in new window). The Apple Wallet app is pre-installed on iPhones.

For match tickets, once you have completed your purchase a confirmation email will be sent to the stated email address containing a Google Pay "Save to phone" button and an Apple "Add to Apple Wallet" button. For season tickets, an email has been sent to all season ticket holders including a download link. If you have not recieved the email, or cannot find it, you can download your ticket by going to:
Then click on the ticket you wish to download and select "Add to Mobile Wallet". Make sure you open these links on the device you want to load the ticket to.

Follow the on-screen instructions on your phone to add your ticket. You can add multiple tickets if someone in your party does not have Apple Wallet or Google Pay (remember that you will all need to enter the stadium together).

You can check if this process has been successful by going into your Google Pay or Apple Wallet app and going to Passes or swiping down respectively.

Each ticket can only be sent to a wallet once, so make sure you open the link on the correct device.

Please take a look at our Step-by-Step guides here: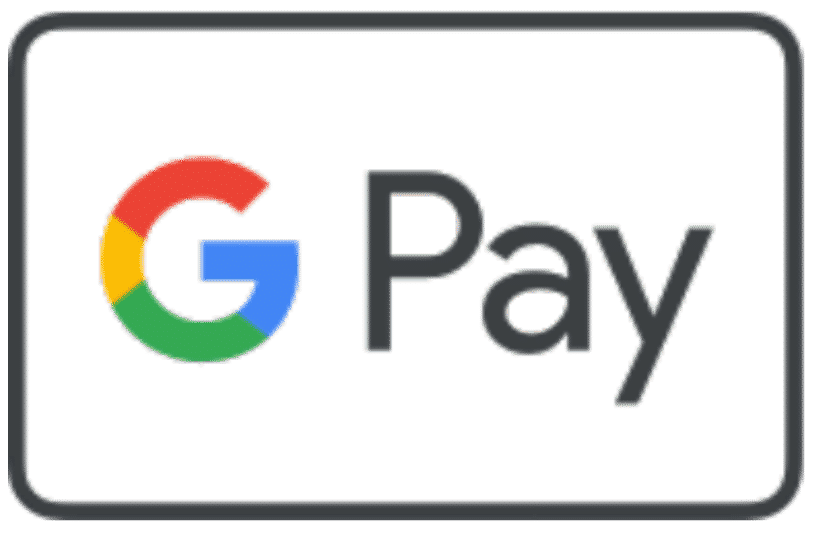 Firstly, please don't forget to charge your phone before you leave for the Amex.

We recommend getting your pass ready just before you get to the turnstiles. The tickets live in the bottom of the Apple Wallet or on the Passes tab of Google Pay.
If you have an Android device, you may need to turn on 'NFC'. You will be prompted to do this when you open Google Pay. If your phone does not have NFC please tap the 'Show Code' option.

Phones with NFC: To use your mobile ticket to access the stadium, tap your phone on the contactless reader on the top of the turnstile.
If you have an Apple device, the NFC chip is likely to be on the top of the device. If you have an Android device, the chip is likely to be more central, but could be anywhere on the device, so please make a note of where it reads for future reference.

Phones without NFC: Open the wallet app and the 'pass' for the game. Tap the 'Show Code' option, then place your phone inside the turnstile reader, with the barcode on the screen facing upwards.

If you have a valid Adult ticket the light will turn green and you can enter the stadium. The turnstile may show other colours depending on your price type.
If the light turns red or you are unable to enter, please seek help from the nearest steward, who will be happy to help.

More than one ticket can be loaded to one phone (although each ticket itself can only be loaded once). If your child does not have a smart phone, we would recommend loading their ticket to your phone.

When accessing your tickets on your mobile device, you will be able to swipe left and right between different tickets to find the correct one to scan. When approaching the turnstile please have the child's ticket ready first. Scan that ticket and let them go through the turnstile before scanning and entering on your own ticket.
If you do not have a smart phone (and no one who you are attending with does either) then you can apply for an alternative method of entry at bhafc.club/nosmartphone.

For season ticket holders, the deadline to apply for an alternative form of entry for the 2021/22 season has now passed. You will need to provide a copy of photo ID (eg a Driver's Licence or Passport) and a recent photograph of your face.

For match tickets you need to apply before you purchase your tickets so that the alternative delivery method (Print@Home) is made available to you. Please note a £5 charge be applied for this service (payable once per season). The tickets must then must be printed by you before arriving at the stadium, failure to do so may result in you being refused entry.

There is no facility to print tickets at the stadium at this time. The club will no longer be issuing tickets on club ticket stock – tickets will only be available as print at home, or by loading tickets to your Google pay/Apple wallet.
Mobile tickets will be the primary method of entry from now on.


All Apple iPhones 6 or later (including first generation iPhone SE) have NFC. If you have an earlier iPhone you can still download the pass to your phone, you will be able to enter using the barcode option (tap the three dots in the top-right corner of your pass and tap 'details').

If you have an Android smart phone which does not have an NFC chip you will still be able to use Mobile Tickets, you will need to use the 'Show code' option when scanning your ticket on entry. Please note the barcode will regenerate at regular intervals so screenshots of the barcode cannot be used for entry.
No, you only need to download your season pass once per season. After each game the pass will dynamically change to display the next game.

If you load your mobile ticket to your Apple device first, you will then also have access to your mobile ticket on your Apple Watch.

To get it ready, double-click the side button. You can then hold your Apple Watch within a few centimeters of the reader, with the display facing the reader.
For Android devices please refer to your phone/watch settings to see if it is possible to access your mobile ticket on your watch.
Whilst the Supporter Services team will try to help wherever possible, if you require specific technical advice reagarding your mobile phone or the wallet app we strongly advise contacting your device supplier's support team, or Apple Wallet/Google Pay support, to resolve error messages and other issues that relate to your device. Here are some useful links:
Please note that the club is not responsible for the content of any external sites you may visit from the above links.