Disabled Supporters' Booking Guide
Introduction
All Disabled Supporter now have the ability to book both their own and their personal assistants seats online.
If you have any feedback about the online booking process or this help guide please email supporter.services@brightonandhovealbion.com.
---
Before you book
Register
If you have never registered with Brighton & Hove Albion as a disabled supporter, you will need to do this first in order for us to set up privileges on your account. Please call 01273 668855 (option 1), use our webchat facility, or email supporter.services@brightonandhovealbion.com for details on the process.
Login
Registered supporters must login before selecting seats. In some cases, the appropriate prices won't appear until login has taken place. To login:
Click on "Sign In" in the top right hand corner of the page
Enter your email address and password
Once logged in you may be asked for your marketing preferences, please give your preferences and proceed
You should now see your name in the top right hand corner
To proceed with booking, clicking "Tickets" at the top of the site will take you back to the ticketing home page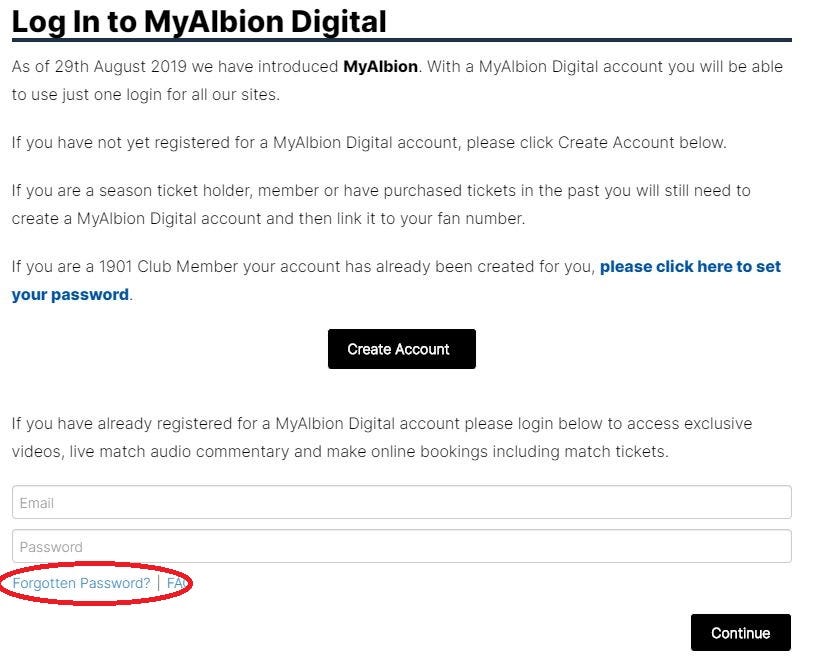 The login page (forgotten password link circled)
---
Booking tickets
Finding a fixture
Fixtures are categorised on the ticketing site, but all fixtures, at all venues that we sell tickets for in advance, have an option for disabled supporters to book online.
Most categories can be found as a link on the home page, but if not there is a menu option.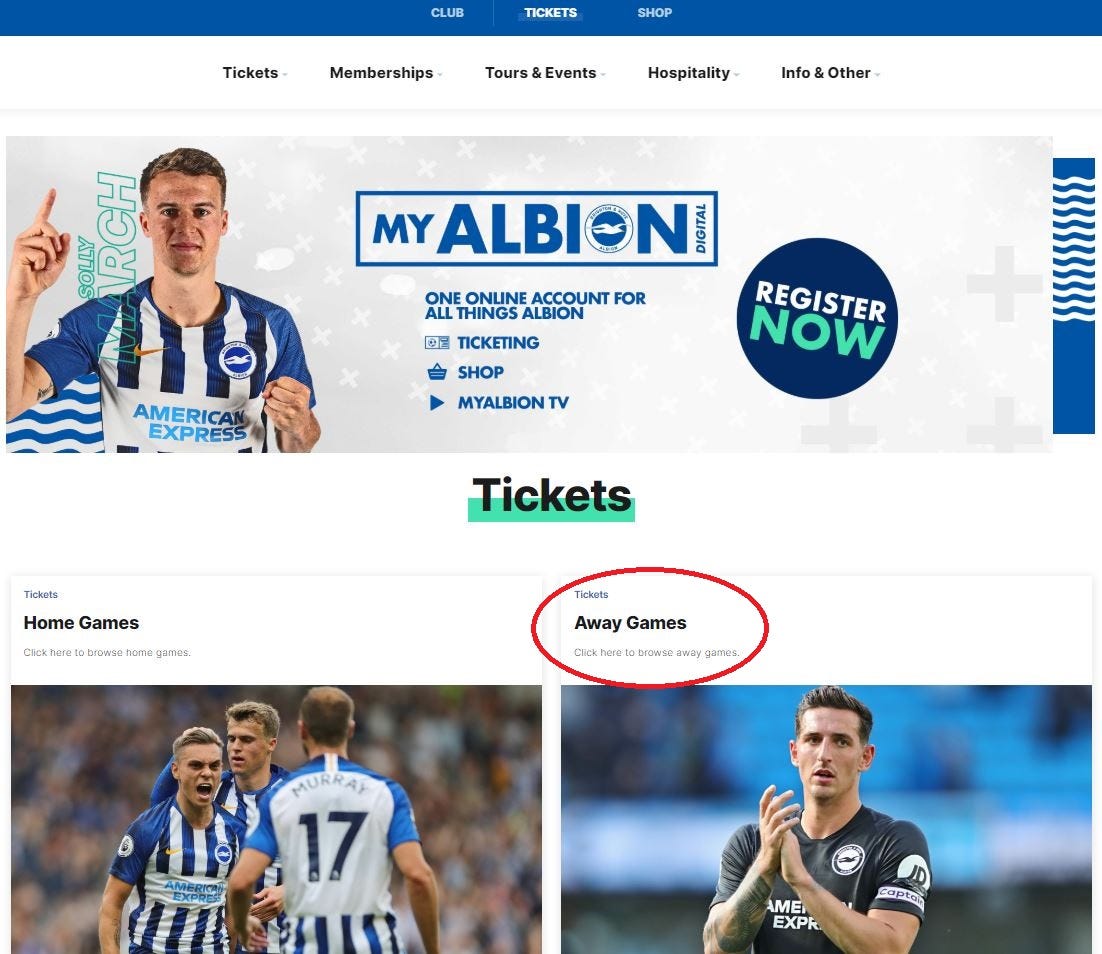 Away tickets on the home page (circled)
Finding information about a fixture
Access can vary between venues, especially when it comes to away fixtures, we try to provide as much information as we can on events. For fixtures at the American Express Community Stadium, we would recommend visiting the Stadium Access Guide. Otherwise we generally have:
Basic details such as pricing and on sale dates are listed on each fixture
More specific details about pricing, travel and access by clicking "More Info"
For away fixtures, areas held for wheelchair users and ambulant disabled supporters are labeled on the seating plan
For home fixtures, areas held for wheelchair users have a square symbol on them, areas with more accessible seating have a triangle symbol on them
The areas labelled for ambulant disabled supporters tend to be easy access, or less likely to need to move during the fixture, however any seats can be bought with a personal assistant
Where specific requirements need to be met, our disablity liaison officer (Millie Crowhurst) can be contacted by emailing supporter.services@brightonandhovealbion.com

More info and Buy buttons (circled)
Selecting Seats/Price Types
When you have chosen the fixture you wish to attend click buy and this will load the seating plan. The seating plan will usually guide you to recommended areas for disabled supporters. In rare instances where we don't have a seating plan, or the fixture is general admission only, appropriate areas may be listed in a dropdown menu.
Select the desired area
Select the appropriate seating. If you hover over the seat it may give you more information about the access to this seat
You can select the disabled price type at the appropriate age and one personal assistant ticket per disabled supporter (this can also be done in the basket)
Finally, you can click buy to proceed to the basket
Selecting an area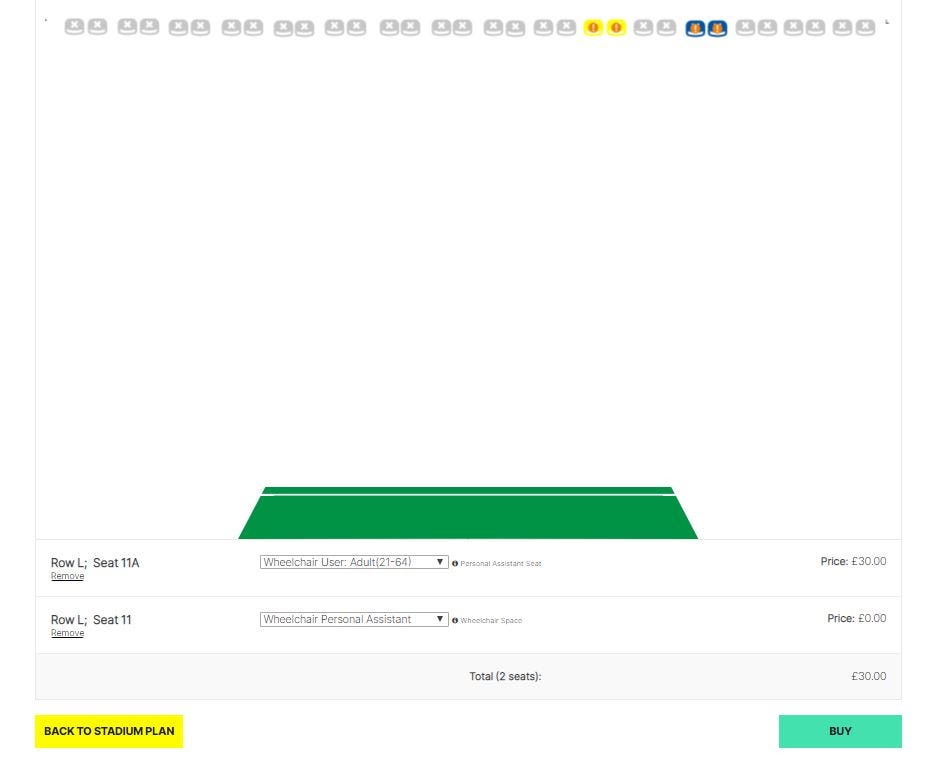 Changing the price types
Proceeding in the basket
If you did not select one disabled price type and one personal assistant previously, you can now change the price type of the tickets here. For every Personal Assistant ticket you select you must select an Ambulant Disabled price ticket (eg 'Ambulant Disabled: Adult').
Please note
:
For most fixtures, tickets are limited to two tickets per account for disabled supporters (to include one for their personal assistant), or one ticket per account for all other supporters. In instances where supporters can buy more than one ticket person account, disabled supporters can have one additional
On the basket screen, if you have selected more tickets that you are allowed an error message informing you that you need to assign seats to different owners. You may need to review the price type of the tickets, as this can also give this error
When you are happy with your selection of tickets, towards the bottom of the page, you can select your delivery method, and then proceed to checkout
Proceed to Payment
For most home or away match tickets you will have the option of adding Booking Protect to your order. Booking protection can offer a refund if you are unable to attend the match due to certain circumstances such as illness or travel issues. Click here for further details.
On the final screen, you are advised to read the Terms & Conditions of sale before completing your booking. Please be aware that once tickets are paid for they cannot be refunded nor exchanged.
Check the contents of your basket before clicking "Proceed to Checkout"